East Germany's Soviet Heritage
Background, thoughts and summary dossier of my photo series "East Germany's Soviet Heritage". Some members of the western hemisphere may misinterpret my photo series "East Germany's Soviet Heritage", because they only distinct digitally between good and evil. Demonization, propaganda and transfiguration poison today's climate as much as they did back then. As a self-reflective person, I am interested in history, and therefore logically also in the history of Soviets in the GDR. This history is unique and was – whether I want it or not – part of my own growing up.
It is quite shattering and eerie t to get to know afterwards that in Vogelsang, being located only some 80km far away from where I grew up, nuclear missiles pointed to the west. Vogelsang wasn't the only place with special weapons as even in my lovely little Rüdersdorf the Soviet's deployed death-bringing SS-1b and SS-1c missiles, better known as SCUDs, being operated by 452th detachment of 27th ballistic missile brigade back in the days. Deadly? Yes, deadly, because my little Rüdersdorf automatically became target of the West, for the sake of a logical, potential (nuclear?) counterstrike.
I would have never thought about that when our Socialist school classes celebrated friendship in Old Rüdersdorf, at the Soviet base…
Fortunately there are plenty of places left not being dedicated to assault or defence, but for commemoration. Their typical Soviet or Communist iconography stands for a universal and noble message to all humans.
Never ever war! – the most essential message of my photo series
When editing out any hegemony then we East Germans were part of a pretty special part of human history, a story without Starbucks, McDonalds & Co. The people of East Germany didn't take the streets back in 1989 for instant soups, bananas and fattening candies, but to breast an incapacitating and humiliating system; to change or disempower it. The success of 1989 was the beginning of the end and the actual root of my decay displaying photo series. No system, no regime, no empire lasts forever!
New hegemonial presumptuous attempts to establish an empire are already looming at the horizon trying to have their foot in our door. US military bases on German territory, where death-bringing drones get operated from, as well as secret torture prisons where innocents get detained, have the very same character like Stasi repressions and Soviet SCUD missiles in the forest of Rüdersdorf.
6.000 souls village versus
military city with up to 75.000 soldiers
. The Soviets knew how to make good use of Wünsdorf, which is located south of the capital on the Berlin-Dresden railway line. Even though it has been abandoned and completely fenced in for several years, the core of the area, today's House of Officers, can still tell its multifaceted story.
Seewerk: Nazi Mystery and secret Soviet Battle Control Centre
Krampnitz – Tanks at the Gates of Berlin
Vogelsang – Huge hidden military city with nuclear missiles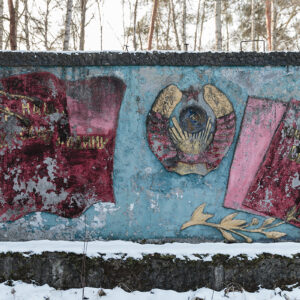 After World War II a huge area being located less than a 1 hour car drive away from the highway ring surrounding Berlin became one of Soviet Army's most important military sites. This
abandoned garrison is located near the city of Zehdenick, in the north of the village Vogelsang
. At peak time up to 15.000 people lived and worked in the present-day ghost town; soldiers, their relatives as well as civil associates. Some of them controlled nuclear missiles pointing to the west – a piece of Cold War and living history.
Sperenberg – Military airport and Soviet eyrie
Elstal – Where Nazi and Soviet symbols meet
When hearing of the Olympic Village for the 1936 Berlin Games, then people quickly think about Hitler, the Nazis as well as their making a cult out of Hindenburg, the former WW I hero and later President of the Reich. However also the Soviet Army lodged itself in strategically well located Elstal and its Löwen-Adler Kaserne military barracks, leaving a very interesting melange behind as in the Olympic Village not only a terrific abandoned swimming pool can be seen, but also a
mix of clearly recognizable Nazi elements neighbouring with typical Soviet iconography
.
Berlin-Tiergarten, the first Soviet memorial on Berlin ground
Berlin-Treptow – Large memorial and icon of liberation from Nazis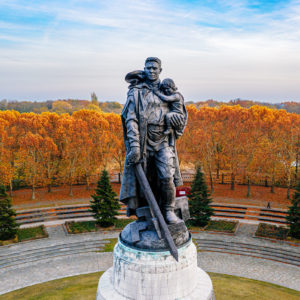 As a small boy I was pretty much
impressed by the Soviet War Memorial being located in Berlin's Treptower Park
and even today that place has quite some impact. However, nowadays such a visit is generally voluntary than back in the days, as the whole school had got to show up there. Though, that wasn't a loss as independent from the system one's living in one could get a feeling for what history means, war stands for and what has to be prevented from happening again. The memorial site lies a bit hidden behind the trees of Treptower Park and only the granite triumphal arches give a hint what can be seen when going further. The war memorial played an important role when the Group of Soviet Forces in Germany (GSFG) backed out on June 25th 19 years ago.
Berlin-Pankow – The largest Soviet WW2 cemetery
More From This Category