Ethiopia – Cradle of mankind
Without doubt East Africa is the cradle of mankind and also Ethiopia has its stake in this unique development. The country's beauty isn't as apparent as hay swimming on the surface; it has to be discovered by big adventure. Buckets with Sangria, animators jumping around uncoordinatedly and parties for singles are foreign words here. On the other hand you get the chance to see worldwide unique cultural and natural sights with your own eyes: lava lakes, hostile deserts and acid volcanoes approach you hand in hand with globally inimitable rock churches and the monumental Simien Mountains, which is the source of the life-bringing Blue Nile.
The journey begins in Addis Ababa at dead of the night. The slightly flickering display at the waiting area of the immigration shows 1:30. Still 5 hours to kill…, as the connection flight to Mekele, the provincial capital of Tigray and starting point of all expeditions to Danakil desert, will not take off before 6:30.
Dusting pointless… On the go through the Danakil desert
Die
Danakil depression, home of the same name desert
, is one of the world's most inhospitable regions. Though, geologically seen at the same time it is one of the most interesting areas our planet has on offer. There, at the separation line of two tectonic plates and birthplace of the African Rift Valley, the African continent is torn apart in a fast-paced tempo. The north-eastern trade winds as well as the Rift Valley's geological character are the reasons why this area sees virtually no rain drop and the thermometer might stop at 65°C.
Dallol – Like on a different star
Located
in the North of Danakil desert, Dallol, a former volcano
, is a worldwide unique spot in terms of geothermal activity. It seems to be the definition of the phrase blaze of colours. Alkaline-bluish ponds framed by ruby red soil, or emerald-green acid puddles flowing around neon-yellow crystals; all that against the background of a juicy oven-like heat plus omnipresent sulphur vapours. You won't consider yourself still being on planet Earth…
Continental drift en miniature – The lava lake of Erta Ale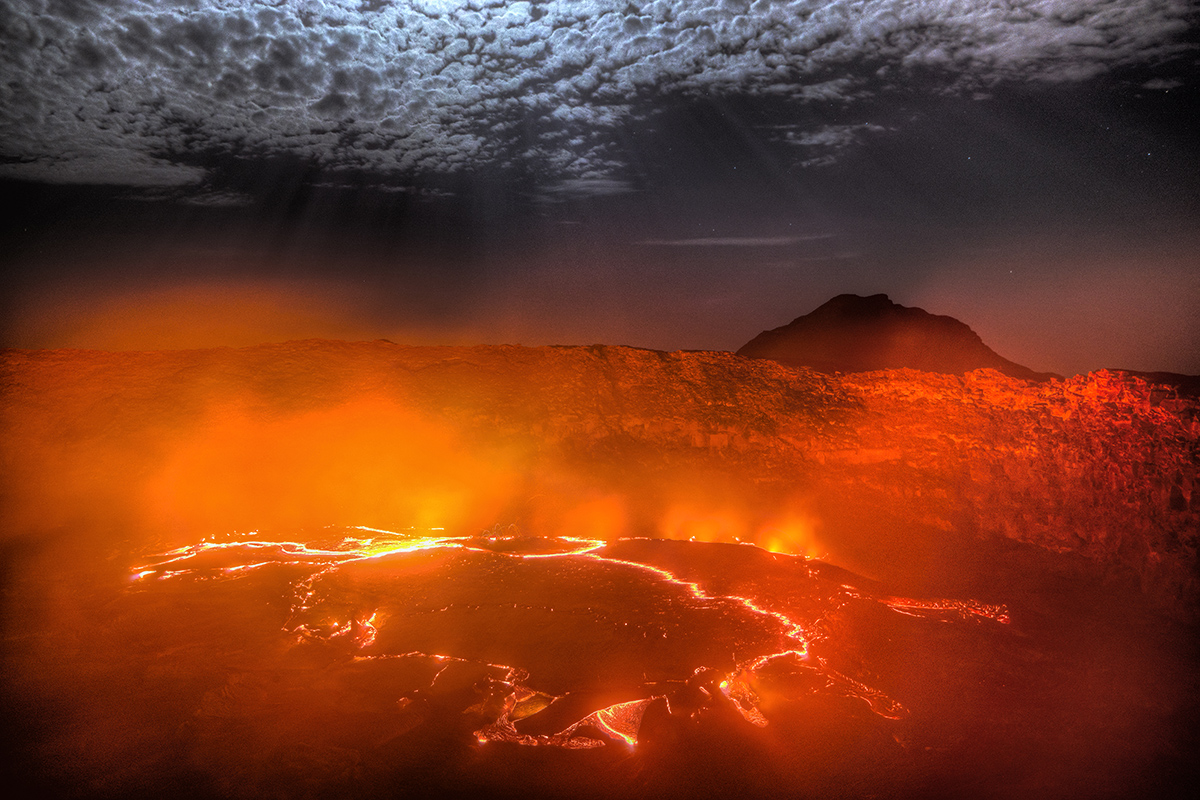 Being able to see an erupting volcano and to put one's hand on the pulse of our planet is definitely an unforgettable adventure. If this volcano is to boot home of one of Earth's only five lava lakes, then the geological fairy tale is perfect and expert as well as layman are on cloud nine. Also located in Ethiopia's Danakil depression is the 613m high
shield volcano Erta Ale and its beautiful lava lake
. Majestically floating, its lava is showing how continental drift en miniature could look like. Volcanoes are like humans, sometimes they are calm, but sometimes they come out of their shell.
The monolithic rock-hewn churches of Lalibela
In the view of
Lalibela's monolithic rock-hewn churches
, the same question comes up as when watching Egypt's pyramids: How did they do that? After all those Coptic monuments were hewn vertically into red basalt lava, one of the world's hardest rocks. On important religious holidays like Easter this place gains in mystic atmosphere even more.
On top of Africa – Hiking through the Ethiopian highlands
Several million years ago
the high plateau of the Simien Moutains
got unfolded. It is home to unique endemic species like the rare Ethiopian wolf, whose wanderings are spotted from above by majestically hovering birds of prey. It's way is leading through a craggy mountain scenery created by volcanoes and formed by erosion forces, a scenery where Gelada baboons are peacefully grazing in the first light of the day and where giant lobelias are clinging to the last rocks of a wall plunging some 500m down.
Simien Mountains Panorama
And here you can watch a big
Simien Mountains panorama photo
, taken from Imet Goto and showing the view you could enjoy when watching over to the eastern escarpment.
Gondar – Ethiopia en miniature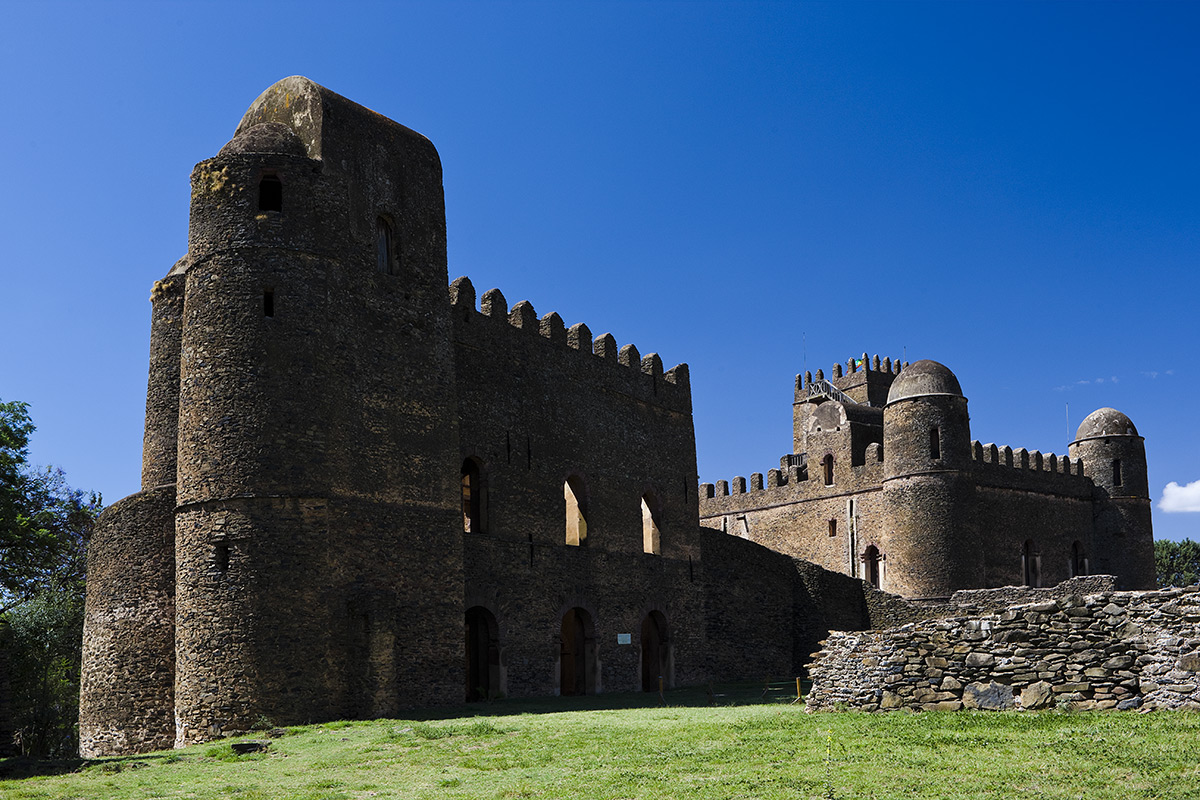 The
ancient imperial capital of Gondar
illustrates like no other the balancing act that Ethiopia has to do day by day, when a unique culture and history meets typical African pros and contras.
More From This Category