Shiva's Empire of Contradictions – An Eye on North India
The Indian subcontinent stands for long distances, is home to millions of people and was once the cradle of a unique early civilisation. In particular the dynasty of the Great Moguls and their sophisticated comprehension of Indo-Islamic culture and architecture formed the country. On a more than four thousand kilometres long journey through North India sights are literally lining the streets. Starting in Calcutta, the journey lead to the sacred city of Varanasi and further on to Indian classics such as the Agra-based Taj Mahal or Fatehpur Sikri, the abandoned former capital of Great Mogul Akbar. In the West scenery is getting more and more meagre, though the wealth of cultural treasures is still on a high level, if even not higher. For example Jaipur's and Jodhpur's world of palaces and forts gives an idea how highly developed India's civilisation once was. The ride's grand finale was a visit to Abhaneri's superbly symmetric step well, Deshnok's bizarre rat temple and Amritsar, home of the amazing Golden Temple and heart of Punjabstate that is bordering with Pakistan in more or less peaceful way; the special border closing ceremony being held every evening near Amritsar gives proof of that.
One thing in the beginning: I have seen many places and countries in the world; I met hundreds of nice people and experienced lots of different situations. I am thankful for that, but India turned all things upside down within one week only and if there wouldn't have been normal people sharing their food with me on the night train while trying to make first contact in broken English, then I surely would have packed my stuff quite quickly again to go back home as the experiences I made while travelling as part of the Indians were quite extreme and unhygienic. The phrase "few culture and lots of shock" nails down everything as the former Indian high civilisation once might have been outstanding, its memory and all things called cultural-social values connected with that are nowadays not a part of everyday life though; everyone is just trying to survive somehow. No other country in the world can be so unbelievably dirty and unhygienic but also at the same time rich of cultural goods and culinary gems like India. More about that and of course also lots of positive things are told in the following articles. Please also take my article about travel experiences into consideration as there I am getting to the bottom of some social impressions as well as my partial choice of harsher words.
Behind the Scenes of the Golden Temple
Amritsar
is not really what we call sunny city and if its
annoying urban traffic
gets additionally involved, then this town can be everything but inviting. Though it is home to an
island of calmness
, a place of
absolute dignity
being is able to
touch the soul of even the hardboiled
among us. Let yourself take on a journey into the world of the
Sikhs
and their
Golden Temple
.
There is no question that
Taj Mahal
is one of India's biggest touristic magnets, if not to say the most impressive. To build this
masterpiece of Indo-Islamic architecture
, country and people got exploited in an unequalled way. Workers and architects left the world a unique monument behind, whose actual origin is leading back to the poppy flower. Fortunately at
greater Agra
dirt and unhygienic circumstances take a backseat; however it gets replaced by another big annoyance, tourist rip-off. After hard bargaining it's helping travellers though as pearls like the
450 years old ceiling fresco
of
Chini-Ka-Rauza
, the picturesque
Baby Taj
as well as the famous
Agra Fort
can be easily explored. From the latter one you can enjoy a marvellous view to Taj Mahal.
Becoming overwhelmed by
horrific traffic
, getting in touch with
Bengali cuisine
, following
Mother Theresa's footprints
and getting to know India from its
dirtiest side
right from the start is what a visit to Ganges delta based
Calcutta, a 16 million people big metropolis
, is always good for.
Ghost Town of the Great Moguls
The
holy town of Fatehpur and the former royal residence Sikri
are a
unique world cultural heritage
. It is a sheer miracle that the building at both sites
are in a very good shape
, hence visitors from all over the world can get an
intimate insight in the way of life
at that time.
Architecturally
both places are
a dream
, have a wonderful layout of lines and
opulent ornamentations
. Where else if not here people can get a sense of how the Indian sovereigns once ruled the subcontinent.
In
Rajasthan water is a very valuable good
. To store it for the most possible time while still having access to it, Rajasthanis built wells into the ground. The most spectacular of its type is located at the village of
Abhaneri
, a
1200 years old step well
made of
dozens of staircases
and
highly symmetric structures
leading into the earth.
The
city of Jaipur
is one of Rajasthan's biggest gems. Besides unique cultural achievements such as
world's largest sun clock
and extra-ordinary buildings like the
wind palace
,
water palace
or the
Amber Fort
, the city scores much more by its
authentic hospitality
. If you're on the hunt for a good deal in terms of high quality fabrics and clothes, then Jaipur has plenty of best
Pashmina, Kashmir
and
silk carpets
on offer at very good prices.
No other scene could be more
Varanasi
-like than leaving an auto rickshaw thoughtlessly parked by its driver and sinking right into fresh cow shit until the knuckle. For many people this city is the
most emotional and versatile place
in India and many of its impressions are throughout
positive and authentic
. Though this postcard-like showcased holiest city of the Hindu definitely also has
some downsides
.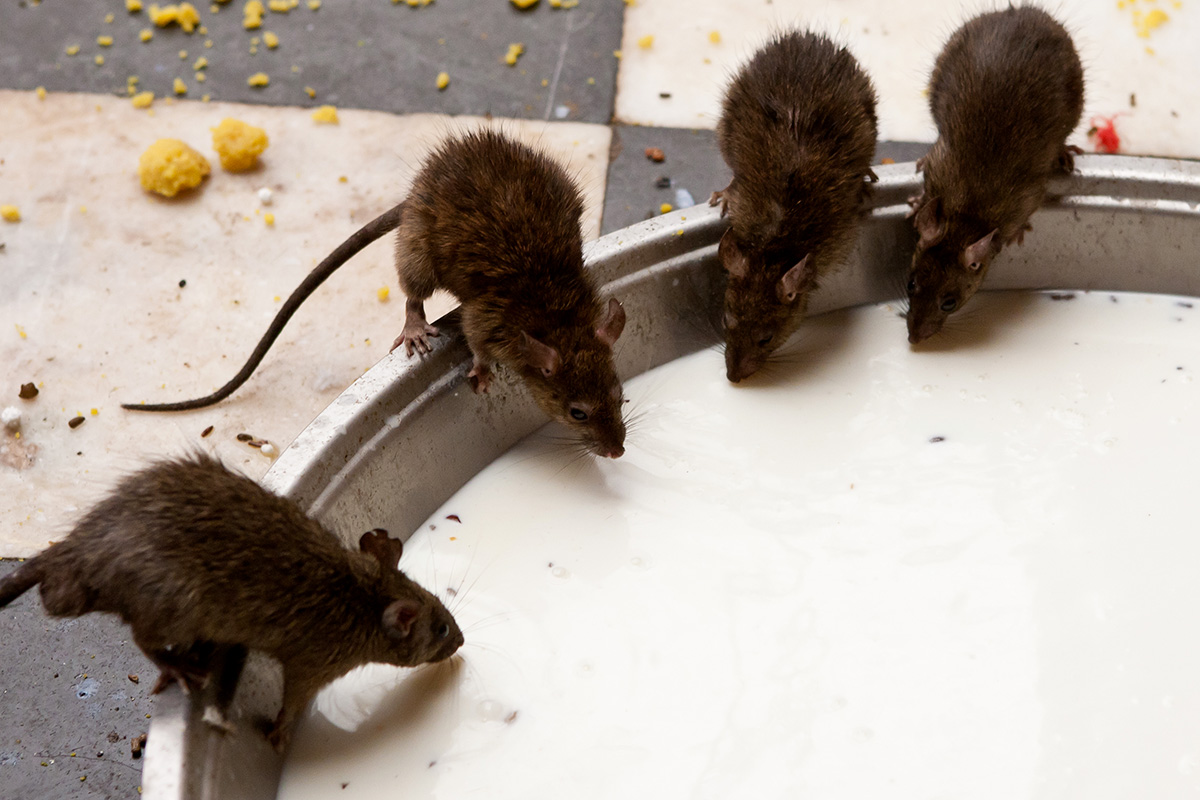 At the
Karni Mata Temple
located at the West Indian village of
Deshnok
all things called spirituality are seeing a very special incarnation when no cows, no monkeys and also no rivers but four-legged rodents are getting worshipped. This sacred monument near the desert town Bikaner is widely known as the
Rat Temple
.
Where Shiva and Allah are shaking Hands
In Rajasthan's
Jodhpur
two different realms are meeting each other when
India and the Arabic world
are getting closer together. The city scape is clearly dominated by 500 years old
Mehrangarh Fort
, while in old town's
narrow lanes
life is buzzing as hell, in particular at the
Old Market
.
Flexing Muscles with the Neighbour
When the Mouth is on Fire…
There is
no doubt
, the
Indian cuisine
is one of the
most diverse
and
richest on this planet
. Doesn't matter if vegetarian or meat lover, candy enthusiast or dessert abstainer, India will take you on a journey to the
world of fine spices, elected ingredients and delectable indulgences
. Looking for some names and in particular what to eat? Then just read on
here
…
When someone comes from back on a journey, then
there is lots to talk about
… The photos included in the articles above cannot reflect all details of life, for example experiences made when travelling India by train. Also here you can get some photographical suggestions plus advices in terms of small presents, spices and fabrics.
More From This Category